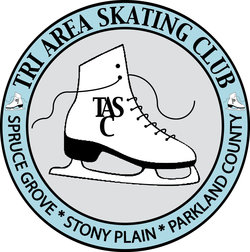 Fundraising Requirements
2020/2021 Skating Season
Winter (S2) Options
Updated December 31, 2020
Requirements & Options To Be Determined Closer to start date
Why does the Tri Area Skating Club require Fundraising?
The Tri Area Skating Club (TASC) is a small, volunteer-based, Not-for-Profit organization that provides Skate Canada programs instructed by professional, certified coaches. The Executive committee is a team of elected parent volunteers whose focus is to keep the club financially sound & running successfully for years to come.
Dedicated parent volunteers are vital and are the foundation to which the club flourishes. The last few years have been extremely hard on all organizations & families financially speaking, and costs continue to increase year over year. Fundraising is a very important component of keeping our club running smoothly, effectively & keeping the overall costs of ice fees lowered for all members & helps to subsidize special events such as Ice Shows, Family Skate, Mini Competitions, etc. The ice fees charged only covers a portion of the overall operating costs. In this day & age of rising ice & supply costs, especially during the COVID-19 Pandemic, this is one way we can ensure that we are able to continue operating your local skating program & subsidize your ice fees.
Thank you all for your dedication to helping maintain a quality program for our children.
CanSkate, Advanced CanSkate, PrePower, CanPower & GroupStar Requirements:
1 (one) Fundraising credit per skater per season. Max 2 per family per season

STARSkate Requirements:
2 days/Week: 2 Fundraising Credits
3 days/Week: 3 Fundraising Credits
4 Days/Week: 4 Fundraising Credits
5+ Days/Week: 5 Fundraising Credits
The Following choices are subject to change if required, due to changing restrictions, etc in the community.
Watch for updates via email and website.

The following options are equal to 1 (one) Fundraising Credit:

1) Bingo (Spruce Grove Bingo Hall, various Dates/Times) – One 4 hour shift = 1 credit
** Sign up by clicking the "Volunteer Sign Up" Link
**1 Deposit Cheque per skater required payable to Tri Area Skating Club, non-dated, in the amount of $200 or Credit Card Authorization Form filled out and handed in prior to first session**

2) Raffle Tickets: SUSPENDED FOR WINTER SESSION
3) Alternative Options - To Be Determined
4) Payout - $150 per credit
Click on "Purchase Other Products" to complete
For any member who has not Pre-Purchased tickets:
1 Deposit Cheque per skater required or Credit Card Authorization filled out prior to the start of the session
Payable to Tri Area Skating Club, non-dated, in the amount of $150.
Once your fundraising requirement has been full-filled, your cheque or credit card authorization form will be destroyed. In the event you do not complete your fundraising for the year, your deposit will be processed.

No Skater can go on the ice until fundraising requirements have been chosen, paid for, deposit cheques issued or credit card authorization form filled out.
If you have any questions please feel free to contact us at info@triareakskatingclub.com.