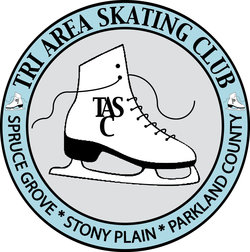 Fundraising Requirements
2020/2021 Skating Season
Spring Options
March 25, 2021
Why does the Tri Area Skating Club require Fundraising?
The Tri Area Skating Club (TASC) is a small, volunteer-based, Not-for-Profit organization that provides Skate Canada programs instructed by professional, certified coaches. The Executive committee is a team of elected parent volunteers whose focus is to keep the club financially sound & running successfully for years to come.
Dedicated parent volunteers are vital and are the foundation to which the club flourishes. The last few years have been extremely hard on all organizations & families financially speaking, and costs continue to increase year over year. Fundraising is a very important component of keeping our club running smoothly, effectively & keeping the overall costs of ice fees lowered for all members & helps to subsidize special events such as Ice Shows, Family Skate, Mini Competitions, etc. The ice fees charged only covers a portion of the overall operating costs. In this day & age of rising ice & supply costs, especially during the COVID-19 Pandemic, this is one way we can ensure that we are able to continue operating your local skating program & subsidize your ice fees.
Thank you all for your dedication to helping maintain a quality program for our children.
The Following choices are subject to change if required, due to changing restrictions, etc in the community.
Watch for updates via email and website.
The following are options to support our club during the Spring Session:
1) Bingo (Spruce Grove Bingo Hall, various Dates/Times) – One 4 hour shift - CURRENTLY CLOSED - However if they reopen we have April 13th & May 31st booked & may need to call on volunteers on short notice to work our shifts
** Sign up by clicking the "Volunteer Sign Up" Link
2) Alternative Options - To Be Determined. We are looking at an alternate voluntary fundraiser for Spring (ie Calahoo Meats, Mundare Sausage, others?) Details to be finalized.
3) Donation- If you know a company that is willing to Donate or Sponsor, please let us know. We have a Sponsorship/Donation letter ready to send them.
4) Bottle Drive - We have an on-going Bottle Drive set up at both Spruce Grove & Stony Plain Bottle Depots. When you drop your donations off, please let them know it's for the Tri Area Skating Club & they will add them to our account.
5) Booster Juice Vouchers - We have vouchers to purchase a Regular Sized Smoothie for $5.50. You may purchase them in books of 20 ($110) or individually ($5.50).
Click on "Purchase Other Products" to complete
Thank you for your continuing support!
If you have any questions please feel free to contact us at triareakskatingclub@gmail.com.